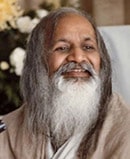 "Maharishi Vedic Health Care uses the approach of Natural Law which is inscribed in every grain of human physiology and is easily accessible to anyone within the intelligence of his own body. With this, the possibility has arisen for the individual to really enjoy balanced, healthy life in happiness – the goal of an affluent society."—Maharishi Mahesh Yogi
Maharishi Vedic Health Centre (A Unit of Maharishi Shiksha Sansthan®) welcomes you to experience and enjoy preventive health care programmes and treatment of diseases through Ayurveda and Maharishi's Vedic Health Care, a unique and natural approach to perfect health. With support of highly skilled, experienced and certified professionals, you will enjoy countless benefits of Vedic treatment and find the perfect balance between mind and body, consciousness and physiology.
For a long time, the need was felt to have Maharishi Vedic Health Clinics for treatment of chronic diseases though Ayurveda and Maharishi Vedic Approach to Health in India and help create a disease free society.
Now the first beautiful clinic has been established at Bhopal, the capital of central province of India, Madhya Pradesh with the name: Maharishi Vedic Health Centre.
Based on the principles and practical programmes of Vedic Health Care, this Maharishi Vedic Health Centre was inaugurated on an auspicious day, 26 September 2012 at 12 noon.
Maharishi Vedic Health Centre provides prevention oriented Vedic Health Care to both healthy individuals and if required, treatment of normal and chronic disorders. All patients are treated with Vedic therapies. Vedic Health Care programmes includes consultation and treatment through Ayurveda, Panchkarma, Rasayanas, Yog, Jyotish, Yagyanushthan, Gandharva Veda, Sthapatya Veda, Gems Therapy and Aroma Therapy, Vedas and Vedic chanting. Maharishi Vedic Health Centre also offers Vedic health awareness courses and will be conducting researches on Indian Vedic Health Care System.
LOCATION
Maharishi Vedic Health Centre is situated on North border of Bhopal city, known as the 'city of lakes', the capital of Madhya Pradesh. MVHC is within the MCEE (Maharishi Centre for Educational Excellence) campus, on Berasia Road. MHVC is only at distance of 20 minutes drive from the Raja Bhoj Airport and the central railway station of Bhopal.
INFRASTRUCTURE & FACILITIES
Maharishi Vedic Health Centre built according to the principles of Maharishi Sthapatya Veda-Vastu Vidya (Vedic Architecture) is a 4 story building, measuring 90,000 sqft. It has beautifully appointed 44 single bedrooms and 14 large twin bed suites, all with attached modern western style bathrooms. MVHC has 8 consultation rooms, 18 treatment rooms, 18 rooms to rest after treatment, several class rooms, a seminar room, large conference hall, library, reading room, Maharishi Vedic Pundits live chanting room, doctor's offices, staff rooms, modern hygienic kitchen, dining hall, gym, audio-visual room and gift store. 24 hours medical assistance, security, power backup through silent power generators and high speed WiFi are available. A 5,000 litre capacity solar hot water system is installed to provide enough hot water for all bathrooms and kitchen.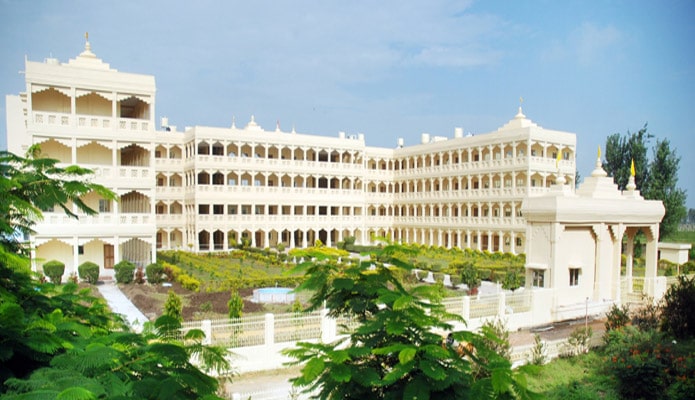 SUITE & TREATMENT ROOMS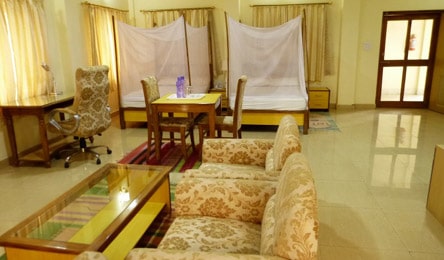 Each bedroom and suite is furnished with a comfortable bed with side tables, high-density foam mattress, writing desk(s), couches, centre table(s), side table(s), chairs, table lamps, UPS (uninterrupted power supply), floor carpets/rugs, yogasana cotton mattress, speaker/conference phone, room heaters (in winter), emergency light and other items for comfortable and peaceful living.
Our 18 Treatment rooms are equipped with all necessary equipment and instruments required for all Poorv Karma (preparation) and Panchkarma Treatment. Each treatment room is connected with a relaxing room with attached bathroom to rest after treatment.
OUR LIBRARY
Our Library has a complete range of books on the 40 aspects of Veda and Vedic Literature with Hindi and English translation/commentaries. Many news magazines and dailies are also subscribed. The Reading room has revolving and reclining chairs with special book stands for comfortable reading.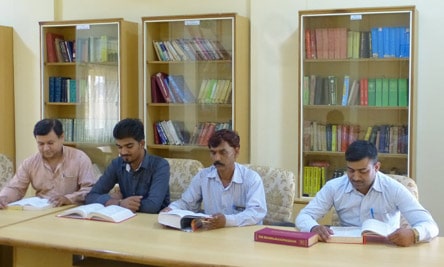 Our Conference hall is equipped with four 32 inch LCD televisions, DVD players, audio public address system including high quality speaker sets, fixed and wireless microphones. The conference hall has a capacity of 110 participants.
Our Seminar Room Has capacity of 30-50 participants and is also equipped with board room style audio conference system, 42 inch LCD screen, DVD player, projector and white display board.
Our Audio-Visual Room has 25 couches with 8 channel sound selector and head phones. Guests can sit comfortably, relax and listen to Gandharva Veda Music and Vedic Chanting of their choice or specifically prescribed sounds suitable to their health.
Our Well-equipped Hygienic Kitchen is hygienic and automatic with capacity to cook and serve breakfast, lunch, afternoon tea with snacks and dinner for over 200 guests.
Our Dining Hall is spacious and can cater meal to 200 guests at a time with buffet style serving stations.
Several Classrooms and Halls Halls are available for Health, Yoga, Jyotish or other Vedic Health Care training programmes and courses.
An expensive Lush Green Garden With colourful flowers and fountains covers the front lawn of MVHC. At the back of MVHC has another beautiful herbal garden with walkways and garden houses with sitting space to enjoy fresh air and herbal breeze.
Luxury AC vehicles (buses, SUVs and sedans) are available for pickup and drop service from/to airport and railway station. Ambulance service is also available in case of emergency.

QUALIFIED & EXPERIENCE HEALTH PROFESSIONALS & STAFF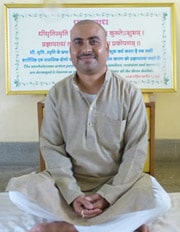 Highly qualified and experienced Vaidyas (Ayurvedic Physicians), technical and administrative staff is available around the clock to take complete care of every guest. Dietitians, Maharishi Vedic Vibration Technology Experts, Jyotishies, TM Teachers, Siddhi Administrators, Advance Technique teachers and Yoga Therapists are also available for consultation and techniques. Modern medicine specialist/doctors are available for consultation on request.